Pierné: Orchestral Works, Vol. 2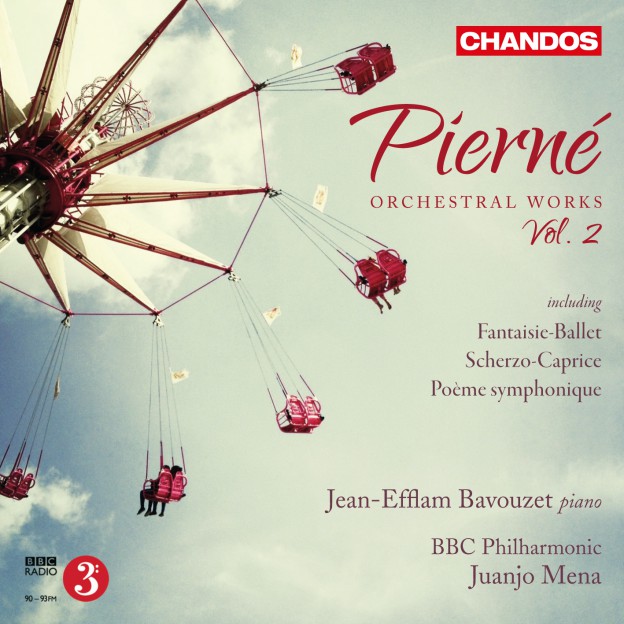 Jean-Efflam Bavouzet (piano)
BBC Philharmonic
Juanjo Mena
This is the eagerly awaited second volume of orchestral works by Pierné, played by the BBC Philharmonic under Juanjo Mena and featuring Jean-Efflam Bavouzet. The first volume, released five years ago, proved 'a delectable aperitif' (American Record Review).
More successful than his older rival Debussy in the early twentieth century, the composer Pierné deserves to be better known nowadays. This recording features some of his most virtuosic and yet mysterious pieces, which place him at the frontier between romantic (Liszt, Saint-Saëns, Franck) and impressionist (Ravel, Debussy) influences.
Jean-Efflam Bavouzet, who is often praised for his expressive power and fine technique, here takes on the challenge of bringing such mercurial inventions as the Fantaisie-Ballet or Poème Symphonique to much-deserved recognition.
Les Cathédrales and Paysages franciscains are later works (1915 and 1919, respectively), and while the former evokes scenes of devastation during World War IMaría Espada (soprano), Martin Roscoe (piano), BBC Philharmonic, Juanjo Mena, the latter offers more airy and impressionist music, with obvious signs of 'modern' influences.
Tracks
Gabriel Pierné (1863-1937)
Paysages franciscains, Op. 43 (1919) 18:41
1 I Au jardin de Sainte Claire (Couvent de Saint Damien). Andantino – Très calme 4:33
2 II Les Olivaies de la plaine d'Assise (Crépuscule d'automne). Modéré – Tranquillo – Tempo I – 5:21
3 III Sur la route de Poggio-Bustone (La Procession). Modéré 8:37
BBC Philharmonic
Juanjo Mena
4 Les Cathedrales (1915) 9:41
Prélude pour le poème dramatique de M. Eugène Moraud
Version without Chorus
À Camille Chevillard
Lento non troppo – [ ] – Tempo I (calme, mais sans lenteur) –
Andante – Allegro vivo – Un poco menos vivo – Allegro vivo
BBC Philharmonic
Juanjo Mena
5 Scherzo-Caprice, Op. 25 (1890) 8:00
Valse symphonique
for Piano and Orchestra
À Madame Caroline de Serres (C. Montigny-Rémaury)
Tempo di Valse – Meno vivo, ma pochissimo – Vivamente –
Jean-Efflam Bavouzet piano
BBC Philharmonic
Juanjo Mena
6 Poeme symphonique, Op. 37 (1901) 12:52
for Piano and Orchestra
À Édouard Risler
Allegro moderato – Andante molto tranquillo – Allegro –
Jean-Efflam Bavouzet piano
BBC Philharmonic
Juanjo Mena
7 Fantaisie-Ballet, Op. 6 (1886) 11:24
for Piano and Orchestra
À Madame Caroline de Serres (C. Montigny-Rémaury)
Andante maestoso – Allegro moderato – Allegro vivo –
Jean-Efflam Bavouzet piano
BBC Philharmonic
Juanjo Mena
8 Nocturne en forme de valse, Op. 40 No. 2 (1903) 7:33
from Trois Pièces formant suite de concert
À Joh. Wyman
Mouvement de Valse lento – Tempo un poco animato –
Jean-Efflam Bavouzet piano
9 Etude de concert, Op. 13 (1887) 3:53
À Louis Diémer
Vivace – Un poco meno presto – Tempo I –
Jean-Efflam Bavouzet piano
TT 72:58
Recorded at MediaCity UK, Salford
17-19 July 2014
Producers
Ralph Couzens (Executive)
Mike George
Sound Engineers
Stephen Rinker
Chris Hardman (Assistant)
Format: Digital CD 16Bit 44.1Khz
Originally recorded in: 24Bit 96Khz