Arriaga: Orchestral Works, "Herminie" and Air from "Médée"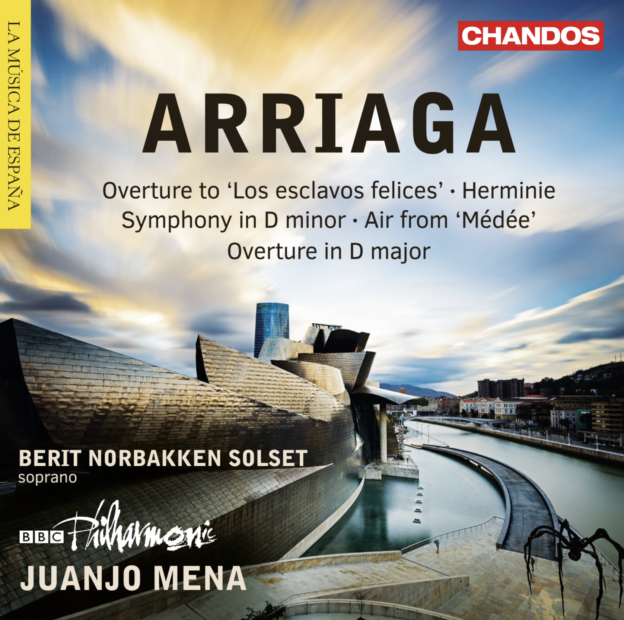 BBC Philharmonic
Berit Norbakken Solset (soprano)
Juanjo Mena (conductor)
Former Chief Conductor of the BBC Philharmonic, Juanjo Mena continues the series 'La Música de España', which has seen the recording of orchestral works by de Falla, Turina, and Albéniz, with another important Spanish composer: Juan Crisóstomo de Arriaga, known for years after his early death as the 'Spanish Mozart'.
The orchestral overture to Los esclavos felices (The Happy Slaves) is all that survives of an opera which the child prodigy Arriaga wrote aged fourteen. When Arriaga moved to Paris in 1821 to study under Fétis, Guérin, and Baillot, he revised the overture, making changes to the instrumentation and removing a third theme. It is the revised version which is heard on this recording.
Air de l'Opéra Médée and Herminie are included in the largely autograph volume 'Ensayos lírico-dramáticos' (Lyric-dramatic Essays), and here feature one of Scandinavia's most sought-after concert singers, the soprano Berit Norbakken Solset. Tonally ambiguous, the D minor Symphonie à grand orchestre, which begins and ends in D major, and the Overture, Op. 20, in D major, which was written 'without having learnt the principles of harmony', are proof that the death of Arriaga at age nineteen was a 'sad loss to Basque music'.
You can see the full track listings and download the audio here.