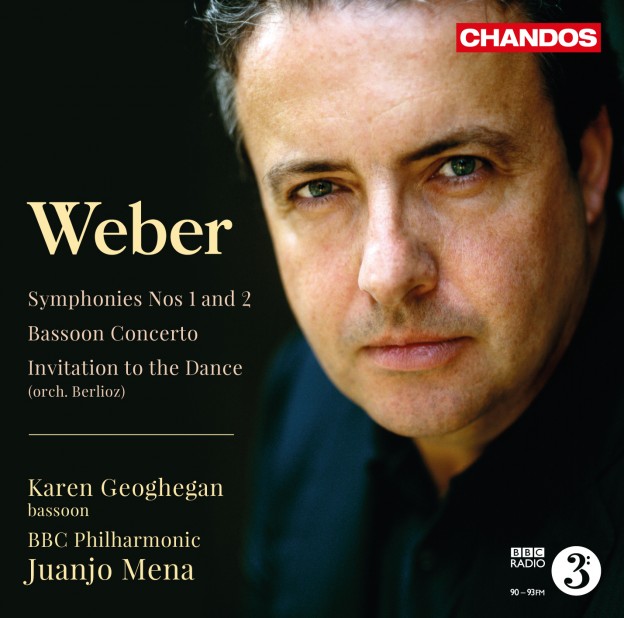 Karen Geoghegan (bassoon)
BBC Philharmonic
Juanjo Mena
Weber: Invitation to the Dance (orch. Berlioz); Symphonies Nos. 1 and 2; Bassoon Concerto – Karen Geoghegan (bassoon), BBC Philharmonic, Juanjo Mena
This is the fourth release by the BBC Philharmonic under its Chief Conductor, Juanjo Mena, and the discography is going from strength to strength – their recording of orchestral works by Falla was 'Recording on the Month' in BBC Music. They are joined on this recording by the bassoonist Karen Geoghegan.
Weber wrote the waltz Aufforderung zum Tanze (Invitation to the Dance) in 1819, around the time when he was also working on the opera Der Freischütz. The two works crossed paths once more, in 1841, when the latter was performed at the Opéra de Paris. Berlioz had been commissioned to orchestrate Aufforderung zum Tanze so that it could be incorporated into the opera, and he did so by melding Weber's polished and elegant original with his own sound world, with customary panache. It is the version included on this disc.
Also featured are Weber's Symphonies Nos. 1 and 2. That these works should be so neglected is partly down to historical accident; they were composed just four years after Beethoven's monumental 'Eroica' Symphony, the work which ditched the rulebook once and for all, and which turned the genre from classical perfection into a personal musical manifesto. So when Weber's symphonies saw the light of day, overshadowed by the great master, no one took much notice. However, these works are brimming with melody and invention and are unfailingly entertaining.
Also on this disc is the composer's Bassoon Concerto. Much of the work's appeal derives from Weber's ear for sonority, and in particular the dark-hued palette natural to the bassoon. The finale has the bassoon playing a jester of great agility, yet with enough elegant touches to dispel any clichéd ideas of the instrument as a figure of fun. The movement builds to an assured and almost reckless virtuoso ending. Karen Geoghegan is the soloist in this work. Gramophone said of this young artist that 'lyrical, mellifluous playing seems to come as naturally as wit and charm'.
Reviews
Performance **** Recording *****
"…They [the symphonies] make genial listening and the BBC philharmonic under Juanjo Mena provide an interesting programme, beginning with invitation to the dance orchestrated by Berlioz, and between the symphonies Karen Geoghegan plays the bassoon concerto, Chandos do well to give us this near forgotten repertoire."
"… superbly prepared, played and recorded … A winner."
"…These are lively, virtuoso performances of works of considerable originality in compostion … Karen Geoghegan gives a delightful performance of a work (Bassoon Concerto) that respects the innately lyrical tone of the instrument, and fills the finale with wit while avoiding any clowning .."
Tracks
CD available From: 01 October 2012
| | |
| --- | --- |
| | Carl Maria von Weber (1786-1826) |
| | | |
| --- | --- | --- |
| 1 | Aufforderung Tanze, Op. 65, J 260 | 10:06 |
| | | | | |
| --- | --- | --- | --- | --- |
| | | | (Invitation to the Dance) | |
| | | | | |
| --- | --- | --- | --- | --- |
| | | | Arranged for orchestra by Hector Berlioz (1803-1869) from the original version for solo piano | |
| | | | | |
| --- | --- | --- | --- | --- |
| | | | Moderato – Allegro vivace – Vivace – Moderato | |
| | | |
| --- | --- | --- |
| | Symphony No. 1, Op. 17, J 50 | 23:53 |
| | | | | |
| --- | --- | --- | --- | --- |
| | | | in C major – in C-Dur – en ut majeur | |
| | | | |
| --- | --- | --- | --- |
| 2 | I | Allegro con fuoco | 6:36 |
| | | | |
| --- | --- | --- | --- |
| 4 | III | Scherzo. Presto – Trio – Scherzo D.C. | 3:27 |
| | | |
| --- | --- | --- |
| | Concerto for Bassoon and Orchestra, Op. 75, J 127 | 17:19 |
| | | | | |
| --- | --- | --- | --- | --- |
| | | | in F major – in F-Dur – en fa majeur | |
| | | | |
| --- | --- | --- | --- |
| 6 | I | Allegro non troppo | 8:12 |
| | | | |
| --- | --- | --- | --- |
| 8 | III | Rond�. Allegro | 4:19 |
| | | |
| --- | --- | --- |
| | Symphony No. 2, J 51 | 18:01 |
| | | | | |
| --- | --- | --- | --- | --- |
| | | | in C major – in C-Dur – en ut majeur | |
| | | | |
| --- | --- | --- | --- |
| 10 | II | Adagio, ma non troppo | 4:43 |
| | | | |
| --- | --- | --- | --- |
| 11 | III | Menuetto. Allegro | 1:29 |
| | | | |
| --- | --- | --- | --- |
| 12 | IV | Finale. Scherzo Presto | 2:17 |
| | | | | |
| --- | --- | --- | --- | --- |
| | | | 26 January (Symphony No. 1 and Invitation to the Dance) & 21 June 2012 (Symphony No. 2 and Bassoon Concerto) | |
| | |
| --- | --- |
| | Ralph Couzens (Executive) |
| | |
| --- | --- |
| | Brian Pidgeon (Symphony No. 1 and Aufforderung zum Tanze) |
| | |
| --- | --- |
| | Mike George (Symphony No. 2 and Bassoon Concerto) |
| | |
| --- | --- |
| | Chris Hardman (Assistant: Symphony No. 1 and Invitation to the Dance) |
| | |
| --- | --- |
| | Celia Hutchison (Assistant: Symphony No. 2 and Bassoon Concerto) |
Format: Digital CD 16Bit 44.1Khz
Originally recorded in: 24Bit 96Khz