Montsalvatge: Orchestral Works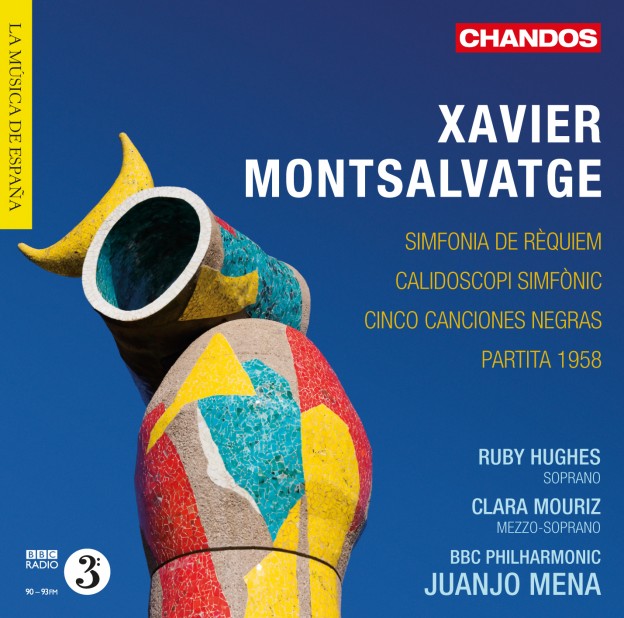 BBC Philharmonic
Juanjo Mena
This album of orchestral works marks the centenary in 2012 of the birth of the Catalan composer Xavier Montsalvatge.
It is released as part of our Spanish music series, conducted by Juanjo Mena, a fellow Catalan national and Chief Conductor of the BBC Philharmonic. Montsalvatge was one on the most influential musical figures in Catalan music during the latter half of the twentieth century. He explored virtually every musical form, but many of his most significant works, including Cinco Canciones Negras (Five Negro Songs), were written after his discovery of the art of the Antilles. He was fascinated by West Indian music, which, as he wrote, 'was itself originally Spanish, exported to the Caribbean, and then re-imported'. In Cinco Canciones Negras for mezzo-soprano and orchestra he set a varied collection of poems from the Caribbean and Spain, adopting the captivating rhythms of the West Indies. 'Canción de Cuna para Dormira a un Negrito' can only be described as one of the tenderest lullabies in the repertoire, presenting a vivid contrast to the exhilarating display of rumba-like rhythms in 'Canto Negro'.
Partita 1958, which, in the words of Montsalvatge, is 'not entirely unrelated to classicism', is strongly inspired by the works of Darius Milhaud, who had discovered the intoxicating rhythms of Latin-American music during the First World War, and had introduced them into his own compositions to sensational effect in the 1920s.
Calidoscopi simfònic derives from an early, unfinished ballet, El Angel de la Guarda (The Guardian Angel). The impressionistically evocative introduction is irresistible evidence of Montsalvatge's genius as a ballet composer, while the finale is an uninhibited celebration of primitive rhythms with thudding percussion, snarling trombones, uproarious trumpets, and, in the slower middle section, a characteristically melodious cor anglais.
In spite of his immense creativity, Montsalvatge never wrote a mass or a symphony. In 1985, however, he did combine the two genres in a symphonic version of the Requiem Mass, the Simfonia de Rèquiem, which features no words and no voices until the very end of the last movement. Montsalvatge intended 'to ignore the orthodox religious aspect and to concentrate on bringing out its profound, forceful message, which is both sad and sublime, by the means of the orchestra'.
Reviews
"… I am delighted with this disc of first-rate music and I heartily recommend it."
"…The recorded sound has been perfectly judged throughout this excellent disc. For those curious about the composer and his very personal, diverse music this is an excellent place to start. It has his most celebrated music and some of his best too."
"…These performances have been stunningly captured by a recording of exemplary clarity and spaciousness, with huge dynamic range, and Gerald Larner's notes provide a helpful introduction to the composer and the music. Anyone seeking something a little different shouldn't hesitate over this release: it would be difficult to imagine any prospective purchaser being disappointed."
"…Montsalvatge's music at its best suggests a piquant plate of patatas bravas. His four-movement Partita 1958 is an engaging, spiky work, the bitonal passages betraying his fondness for the music of Darius Milhaud. The Cinco Canciones Negras are the most immediately appealing piece s on this Chandos disc. Each song is a sun-drenched gem, sung with gorgeous aplomb by Spanish mezzo Clara Mouriz, capable of reduing her voice to an imperceptable whisper when needed… All performed with panache. More please."
"Performances and recording are excellent and up to Chandos' best standards. A most welcome introduction to Montsalvatge's world and a superb tribute to the composer in his centenary year."
"…This is a wise and moving work. Juanjo Mena directs admirable, wholly idiomatic performances. A valuable disc for anyone interested in Catalan music of the 20th century,"
"…The performances are immensely persuasive. Ruby Hughes sounds suitably seraphic in Simfonia de Rèquiem, but the vocal honours go to Clara Mouriz, tremendous in Cinco Canciones."
Tracks
CD available From: 01 September 2012
| | |
| --- | --- |
| | Xavier Montsalvatge (1912-2002) |
| | | | |
| --- | --- | --- | --- |
| 1 | I | Fanfare. Avec allegresse et dureté | 1:38 |
| | | | |
| --- | --- | --- | --- |
| 2 | II | Sarabande. Délicat – Plus animé – Tempo I – Tempo I | 5:31 |
| | | | |
| --- | --- | --- | --- |
| 3 | III | Intermezzo. Passioné – Plus calme – Tempo I | 5:30 |
| | | | |
| --- | --- | --- | --- |
| 4 | IV | Final. Entraînant – Solennel | 3:58 |
| | | |
| --- | --- | --- |
| | Cinco Canciones Negras | 12:14 |
| | | | | |
| --- | --- | --- | --- | --- |
| | | | for Medium Voice and Orchestra | |
| | | | |
| --- | --- | --- | --- |
| 5 | 1 | Cuba dentro de un piano (Cuba in a piano). Lento – Rubato – Lento – Rubato – Lento – | 4:30 |
| | | | |
| --- | --- | --- | --- |
| 6 | 2 | Punto de Habanera (Habanera rhythm). Tempo di guajiras – A tempo – Coda a tempo | 1:48 |
| | | | |
| --- | --- | --- | --- |
| 7 | 3 | Chévere (The dandy). Lentissimo | 1:58 |
| | | | |
| --- | --- | --- | --- |
| 8 | 4 | Canción de Cuna para Dormir a un Negrito (Lullaby for a little black boy). Lento | 2:28 |
| | | | |
| --- | --- | --- | --- |
| 9 | 5 | Canto Negro (Negro song). Leggiero | 1:17 |
Clara Mouriz

mezzo-soprano
| | | |
| --- | --- | --- |
| | Calidoscopi simfonic, Op. 61 | 15:59 |
| | | | | |
| --- | --- | --- | --- | --- |
| | | | Quatre moviments de ballet | |
| | | | |
| --- | --- | --- | --- |
| 10 | I | Introducció. Moderato | 3:03 |
| | | | |
| --- | --- | --- | --- |
| 11 | II | Ronda i Pantomima. Allegretto mosso – Meno mosso – Poco più (come prima) | 4:52 |
| | | | |
| --- | --- | --- | --- |
| 12 | III | Cànon i Havanera. Allegretto deciso – Meno mosso – Semplice – Tempo d'havanera | 4:26 |
| | | | |
| --- | --- | --- | --- |
| 13 | IV | Final 'a la Indiana'. Andante ritmico – Poco meno – Tempo I | 3:30 |
| | | |
| --- | --- | --- |
| | Simfonia de Requiem | 22:38 |
| | | | |
| --- | --- | --- | --- |
| 14 | I | Introitus. Andante moderato – Poco più sostenuto – Tempo I (Andante moderato) | 3:17 |
| | | | |
| --- | --- | --- | --- |
| 15 | II | Kyrie. Andante doloroso | 3:43 |
| | | | |
| --- | --- | --- | --- |
| 16 | III | Dies irae. Allegretto con brio – Poco meno mosso – Moderato ritenuto – Tempo I (Allegretto con brio) | 3:46 |
| | | | |
| --- | --- | --- | --- |
| 17 | IV | Agnus Dei. Adagietto | 3:34 |
| | | | |
| --- | --- | --- | --- |
| 18 | V | Lux æterna. Andante moderato | 4:30 |
| | | | |
| --- | --- | --- | --- |
| 19 | VI | Libera me. Domine. Moderato solenne, molto tenuto | 3:46 |
| | |
| --- | --- |
| | Ralph Couzens (Executive) |
Format: Digital CD 16Bit 44.1Khz
Originally recorded in: 24Bit 96Khz