Falla: Works For Stage & Concert Hall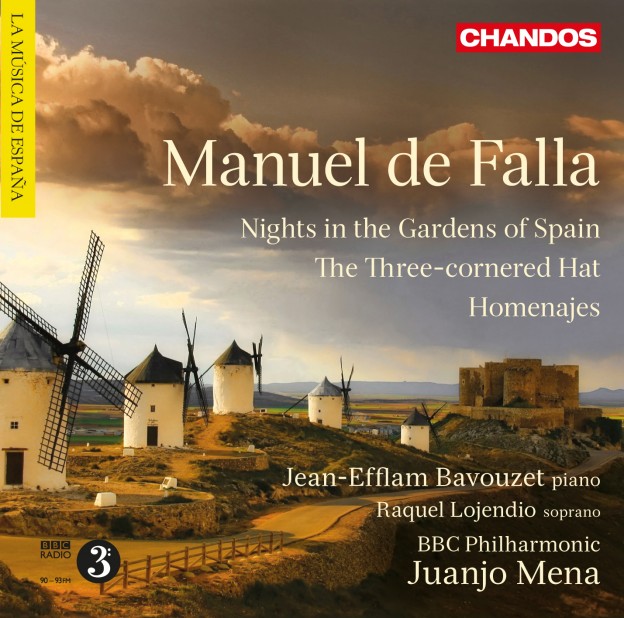 Jean-Efflam Bavouzet (piano)
BBC Philharmonic
Juanjo Mena
Falla: Nights in the Gardens of Spain; The Three-cornered Hat, Homenajes – Jean-Efflam Bavouzet, BBC Philharmonic, Juanjo Mena
This disc of works for stage and concert hall by Manuel de Falla starts off Chandos' new Spanish series with the BBC Philharmonic under Juanjo Mena.
Nights in the Gardens of Spain is among Falla's most impressionistic and poetic works, full of shimmering textures that recall Debussy, but with a hard-edged precision brought to the forefront by the piano. Based on the novel by Alarcón, The Three-cornered Hat was commissioned in 1916 by the impresario Diaghilev for his Russian ballet company. The music is exuberant and vibrantly colourful – a great chance for the BBC Philharmonic to be put through its paces. Also on this disc is the Homenajes, in which Falla pays tribute to fellow musicians and composers. 'Fanfare sobre el nombre de Arbós' was written for the seventieth birthday celebrations of the conductor Enrique Fernández Arbós, while 'Pedrelliana' pays posthumous homage to Falla's teacher Felipe Pedrell, who had informed so much of his musical thinking.
Reviews
"The programme presented here would seem to be the perfect calling card for the BBC Philharmonic's new chief conductor, Juanjo Mena. And so it is. The natural affinity for this repertoire that the Spanish conductor possesses is obvious from these performances. The selection of three of Falla's best orchestral works makes this a valuable addition to the composer's discography. It also marks what is hoped to be just the beginning of many recordings of Spanish music from Mena and the orchestra…one of my favorite discs so far this year. Bravo to Mena and the BBC Philharmonic!
Chandos, Mena and the BBC Philharmonic have scored a success in the music of Falla."
"…This is a punchy, superbly recorded performance. There is some very pointed playing here… He [Bavouzet] is aided by conductor Juanjo Mena, who evinces a true understanding of the music of this native Spain…"
"…it is greatly to the credit of Juanjo Mana and his forces (with a truly authentic touch from Raquel Lojendio) that such a potent atmosphere is achieved … Chandos's sound is of exceptional clarity and finesse."
"This is the first recording of the BBC Philharmonic under its new chief conductor, Juanjo Mena. Judging by the exuberance of the performances, the orchestra has lost none of its rhythmic precision and tonal colour . Nights … is virtually a piano concerto … and is played here by Jean-Efflam Bavouzet with poetic insight and just enough flamboyance." *****
&"…this disc has loads to commend it – playing of real verve… The Three-Cornered Hat isn't heard enough in its complete form; Mena's gift is to bring out the rhythmic zest, the hints of violence underpinning what can too easily sound like a sequence of musical postcards. Soprano Raquel Lojendio is superb in the ballet's introduction, matched by the beefy shouts of the orchestra's men. Then there's Jean-Efflaum Bavouzet's account of Nights in the Gardens of Spain … a delectable, substantial three-movement work. Bavouzet is predictably impressive – technically stunning in the more brilliant passages, but always prepared to melt into Mena's carefully coloured orchestral backing when acting as a tutti player. The rarity is the late Homenajes, a suite compiled in 1939. Falla recycled earlier works composed in tribute to musicians he had known and admired. The sombre mood of the fourth movement's Dukas homage is a surprise, but the closing tribute to Felipe Pedrell is drawn with warmth and affection."
"Editor's Choice"
"…the BBC Philharmonic's new chief conductor steers the players into richly coloured, rhythmically vigorous accounts of the first two stage works, hauntingly delicate sounds in the
third. Idiomatic vocal contributions from soprano Raquel Lojendio; and Jean-Efflam Bavouzet's piano line is by turns sensitive and sparklingly virtuosic."
"…The BBC Philharmonic's new Spanish chief conductor directs characterful performances of works by his compatriot Manuel de Falla… in Mena's hands the music dances the light-fantastic. Jean-Efflam Bavouzet is piano soloist in an atmospheric Nights in the Gardens of Spain, and Homenajes brings to light a little-known suite of elegiac beauty. " ****
Recording of the Month"…the level of engagement with the music is exceptional."
CD of the Week
"…The BBC Phil respond with electrifying engagement and authenticity to Mena's idiomatic way with Falla's sensuous orchestraton and his unmistakably Spanish dance rhythms… This disc inaugurates a series devoted to La Musica de España, so we can look forward to more Spanish goodies from Mena, his orchestra and Chandos."
"… This is the orchestra's first commercial recording done in its new Salford home at MediaCity. The acoustics sound good and accommodating, with enough space to give the music air and a luminous glow, on which Mena capitalises in The Three-Cornered hat, drawing a range of colour and atmosphere from the orchestra and getting its members to clap and shout "Oi" with some gusto in the introduction. Light and shade are well delineated, as are the contrasts between sultriness and vitality … just as they catch the spirit of Nights in the Gardens of Spain, with Bavouzet adding scintillatingly to the orchestral spectrum."
€
Tracks
CD available From: 30 January 2011
| | | | | |
| --- | --- | --- | --- | --- |
| | | | Works For Stage & Concert Hall | |
| | | |
| --- | --- | --- |
| | El sombrero de tres picos | 38:19 |
| | | | |
| --- | --- | --- | --- |
| 1 | | Introduction. Allegro ma non troppo – Poco meno mosso – Come prima | 1:31 |
| | | | |
| --- | --- | --- | --- |
| 2 | | Part 1. La tarde. Allegretto mosso – Moderato – | 5:35 |
| | | | |
| --- | --- | --- | --- |
| 3 | | Danza de la Moliera (Fandango). Allegro ma non troppo – Moderato | 3:36 |
| | | | |
| --- | --- | --- | --- |
| 4 | | Las uvas. Vivo – Mosso | 4:06 |
| | | | |
| --- | --- | --- | --- |
| 5 | | Part 2. Danza de los vecinos (Sequidillas). Allegro ma non troppo | 3:20 |
| | | | |
| --- | --- | --- | --- |
| 6 | | Danza del Molinero (Farruca). Poco vivo – | 3:03 |
| | | | |
| --- | --- | --- | --- |
| 7 | | [Interlude] Allegretto | 1:36 |
| | | | |
| --- | --- | --- | --- |
| 8 | | [Interlude] Tranquillo | 3:02 |
| | | | |
| --- | --- | --- | --- |
| 9 | | Danza del Corregidor. Allegretto – Poco vivo (giocoso) – Allegro – | 6:25 |
| | | | |
| --- | --- | --- | --- |
| 10 | | Danza final (Jota). Poco mosso – Allegro ritmico, molto moderato e pesante – | 5:55 |
| | | |
| --- | --- | --- |
| | Noches en los jardines de Espa�a | 22:14 |
| | | | | |
| --- | --- | --- | --- | --- |
| | | | (Nights in the Gardens of Spain) | |
| | | | |
| --- | --- | --- | --- |
| 11 | 1 | En el Generalife. Allegretto tranquillo e misterioso – | 10:01 |
| | | | |
| --- | --- | --- | --- |
| 12 | 2 | Danza lejana. Allegretto giusto – Poco animato – | 4:42 |
| | | | |
| --- | --- | --- | --- |
| 13 | 3 | En los jardines de la Sierra de Córdoba. Vivo – Calmando appena e gradualmente – | 7:26 |
| | | | |
| --- | --- | --- | --- |
| 14 | 1 | � E.F. Arb�s (Fanfare). Allegro con brio – Con giubilo – Meno mosso | 0:55 |
| | | | |
| --- | --- | --- | --- |
| 15 | 2 | � Claude Debussy (Elegia de la guitarra). Mesto e calmo – Giusto – I. Tempo | 3:22 |
| | | | |
| --- | --- | --- | --- |
| 16 | 3 | Rappel de la Fanfare. Allegro | 0:18 |
| | | | |
| --- | --- | --- | --- |
| 17 | 4 | � Paul Dukas (Spes vitae). Andante molto sostenuto | 4:00 |
| | | | |
| --- | --- | --- | --- |
| 18 | 5 | Pedrelliana. Moderatamente – Un poco animato – Deciso – Moderato – | 7:07 |
Jean-Efflam Bavouzet

piano
| | |
| --- | --- |
| | MediaCity UK, Salford 18/19 June & 28 Sept 2011 |
Format: Digital CD 16Bit 44.1Khz
Originally recorded in: